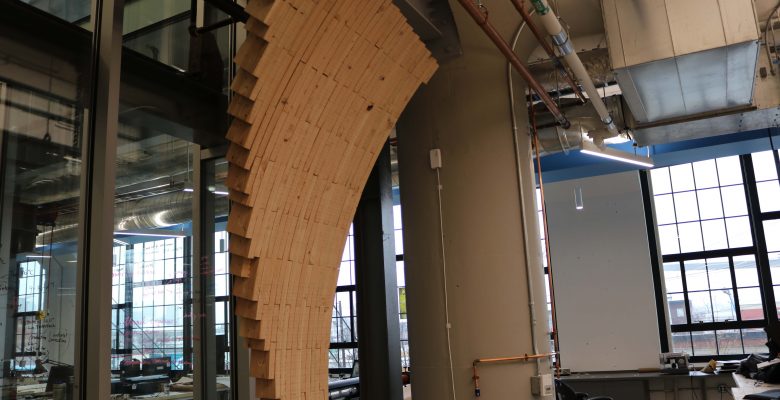 ABSTRACT:
The prototype is composed of standard 2x lumber, laminated together using aluminum nails to form a faceted structural shell following complex double curvature. Leveraging computational design and advanced fabrication techniques, the shell was milled by a 5-axis CNC router to achieve smooth curved interior surface finish. Tens of the shell panels are planned to be assembled together for the actual build of the project. Work was completed in October 2016.
The work explores what is achievable in wood construction and is made possible with digital fabrication. The smooth NLT shell highlights innovation in applying advanced industrial fabrication methods to a historic natural and sustainable building material, enabling wood structures to address complex building forms, and thus opening up new possibilities for the future of wood construction in the industry.
A number of different concept prototypes from around Perkins+Will are slated for production at Autodesk BUILD Space to streamline our digital fabrication workflows and explore their potential, in an effort to inform our design process through the act of physical creation. Upcoming collaborations include a thermoplastic lattice panel to be fabricated at the end of 2016 using industrial robots and 3D printers. The ongoing collaboration with Autodesk will explore a full range of material assemblies and advanced fabrication methodologies.
The opportunity to physically construct prototypes of our designs and test digital fabrication at Autodesk's BUILD Space helps Perkins+Will bridge the gap between design and construction. The partnership enables more informed design while facilitating the development of increasingly complex and demanding building systems. The collaboration creates a rich medium for continuous exploration of new construction techniques, building materials and assemblies by providing a feedback loop between designers, fabricators and software developers. We see the future of the AEC industry blurring boundaries between disciplines, and giving technology an ever increasing role to play – our collaboration with BUILD Space provides exactly that, opening up infinite possibilities to develop the smarter building systems we expect for our future.
Yehia Madkour and Jeremy Luebker contributed to the effort.