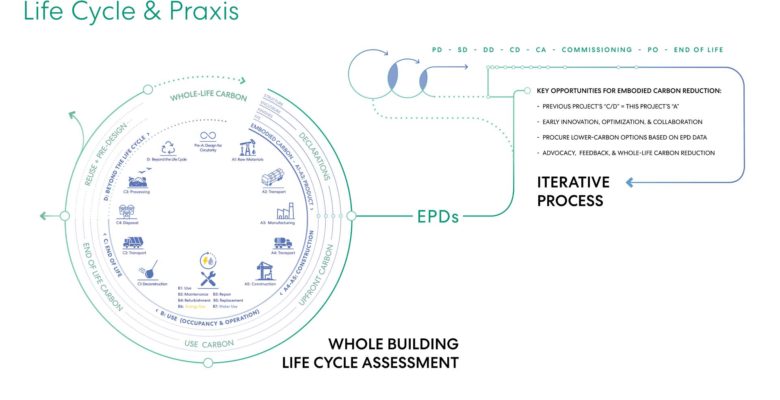 ABSTRACT:
Life Cycle Assessment (LCA) incites innovation by re-framing our understanding of building materials within the context of their ecological sources and impacts. Of these impacts, embodied carbon is a primary contributor to global warming.
Most building materials' embodied carbon emissions occur before a product leaves its manufacturer's gate. These emissions can be measured and reduced via LCA and Environmental Product Declaration (EPD) data. As architects incorporate LCA and EPDs into the design and project delivery process, we gain leverage to demand emissions reductions in manufacturing. A coordinated effort to request, assess, and make decisions based on EPD data can affect change in material extraction and production, and in turn, influence systemic change in all sectors of industry.
As an industry leader, our Firm is well-poised to catalyze the adoption of carbon-responsive design across the built environment, activating the latent potential of supply-chain conscious specification and ecologically informed material selection. To support this effort, we've created an online Carbon Practice Guide. The guide includes a compilation of resources for understanding the relationship between embodied carbon, supply chain and our built work, and identifies EPDs as a key leverage point for making a difference throughout a larger system.
View the report here.