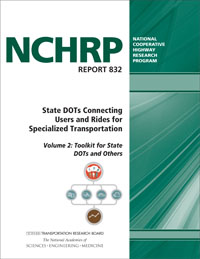 ABSTRACT:
Specialized transportation services such as paratransit, community volunteer drivers, and transportation voucher programs provide much needed mobility options for seniors, people with disabilities, individuals with low incomes, and veterans. Significant public investment through a broad range of federal and state funding programs, complemented with major efforts by non-profit organizations and community groups, have created numerous services in communities across the country. These services improve mobility, employment and education opportunities, and access to healthcare and community services for the transportation disadvantaged. Most systems consist of numerous providers servicing patchworks of geographic areas during limited hours of service making it difficult for many users to navigate. In addition, inconsistent networks of public operator and private contractor programs can be both inefficient and insufficient for meeting traveler's needs.
Tools are needed to assist state DOTs with connecting customers with the best mobility options. Volume 1: Research Report discusses the main components of connecting specialized transportation users and rides and describes the concepts, planning considerations, key issues, the development process, and general planning principles associated with making that linkage. In addition, Volume 1 includes findings from a literature review; interviews with employees overseeing existing linkage programs; as well as research into the coordination, marketing, and evaluation of current programs. Volume 1 also contains an analysis of the strengths, weaknesses, and opportunities presented by each type of linkage program and
provides best practices for connecting specialized transportation users with the rides they need to access daily services. Volume 2: Toolkit for State DOTs and Others provides a seven-step toolkit for planning and implementing a range of linkage services, from identifying target geographies, users, and modes to determining effective evaluation and marketing strategies.
This report was prepared by Nelson\Nygaard Consulting Associates with assistance from ICF International. Both volumes can be found on the TRB website at http://www.trb.org/Publications/PubsNCHRPProjectReports.aspx.
– Gwen Chisholm Smith, Staff Officer, Transportation Research Board
This report was prepared by Will Rodman, Dan Berez, and Sarah Moser of Nelson\Nygaard Consulting Associates, with graphic support from Danielle DeCharles, also of Nelson\Nygaard.