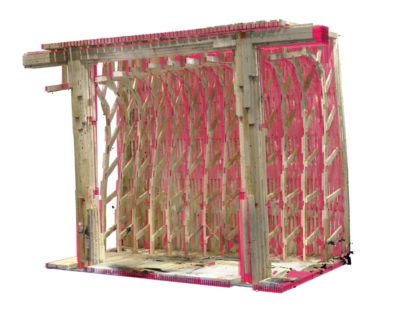 ABSTRACT:
Robotics, mass timber, and parametric design are all key technologies that are underutilized in construction. To fully take advantage of these new technologies requires a rethinking of the entire process from design to construction. The Greenbuild Pavilion represents a new construction workflow, in which a digital parametric model is communicated directly to a robot fabricator. The robot, equipped with various tools, can manipulate dimensional lumber into complex geometries with industrial precision. This workflow has the potential to drastically improve the sustainability, quality, cost, and time of construction.
View the full paper, published in the The International Association for Automation and Robotics in Construction, here.
To watch a video of the fabrication process for the Greenbuild Pavilion, watch here.